Area, 68,192 sq mi (176,617 sq km), including 1,483 sq mi (3,841 sq km) of inland water surface.
Pop. (2000) 5,894,121, a 21.1% increase since the 1990 census.
Capital, Olympia.
Largest city, Seattle.
Motto, Alki [By and By].
State bird, willow goldfinch.
State flower, Western rhododendron.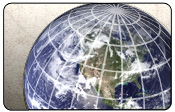 State tree, Western hemlock.
Much of the land in E Washington is used for dry farming. Irrigation, however, has converted many of the river valleys east of the Cascades (especially the Yakima and Wenatchee) into garden areas. This region contains most of Washington's vineyards; from the 1980s the state has developed an important wine industry. Washington leads the country in the production of apples, sweet cherries, and pears and is a major wheat producer, chiefly in the hilly southeastern Palouse area. Washington is also a major producer of corn, onions, potatoes, apricots, grapes (including those made into wine), and other fruits, nuts, and vegetables. Cattle, dairy goods, sheep, and poultry are also economically important.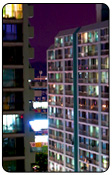 Despite the vast semiarid expanse E of the Cascades, more than half of the state's area is forested, and the lumber and wood-products industry, so important in the early development of the state, remains one of its largest. Many of Washington's cities (among them Tacoma, Bellingham, Everett, and Anacortes) began as sawmill centers. Seattle itself was home to the original "Skid Road" and lumber, pulp, paper, and related items are still among their major products.


Other important manufactures in the state are chemicals and primary metals, especially aluminum. Abundant water power and the rich aluminum and magnesium ores found in the Okanogan Highlands in the northeast part of the state have made Washington the nation's leading aluminum producer.

Visitors are attracted to Mount Rainier National Park, Olympic National Park, North Cascades National Park, Fort Vancouver and Whitman Mission national historic sites, and Lake Roosevelt National Recreation Area. Mt. Saint Helens , which erupted in 1980, is now a national monument.
*Columbia Encyclopedia, Sixth Edition, Copyright (c) 2003.